December 10, 2021
HCMC WATER SHORTAGE ANNOUNCEMENT
According to the Notice of Saigon Water Corporation (SAWACO) about Temporarily suspending water supply in most areas of Ho Chi Minh city
Dear Valued Tenants,
CityHouse Apartment would like to send you a warm greeting and thank you so much for choosing us.
According to the Notice of Saigon Water Corporation (SAWACO) about Temporarily suspending water supply in most areas of Ho Chi Minh city for:
- Troubleshooting 1200mm pipeline on Nguyen Thai Binh street, District 1
- Maintenance of Thu Duc Waterworks
Water supply shutdown time: from 9:00 pm on December 11st, 2021
Expected time for water supply to return: 5:00 am on December 12nd, 2021 
Following CityHouse's assessment, the water maintenance may cause the affections to our building. Therefore, CityHouse will reserve enough usage water for Tenants to use around 36hours before the shutdown time. In addition, we recommend that Tenants should use the common water source reasonably so that the reserve water will not be shorted until the city's water supply resumes operation. CityHouse desires your sympathy as this is a force majeure situation. 
(For more information, please visit the link of Tuoi Tre Online Newspaper: https://tuoitre.vn/cuoi-tuan-nay-mot-nua-tp-hcm-bi-cup... )
Note: After completing the troubleshooting, the return of water supply in some areas far from the source might be slower than the mentioned time.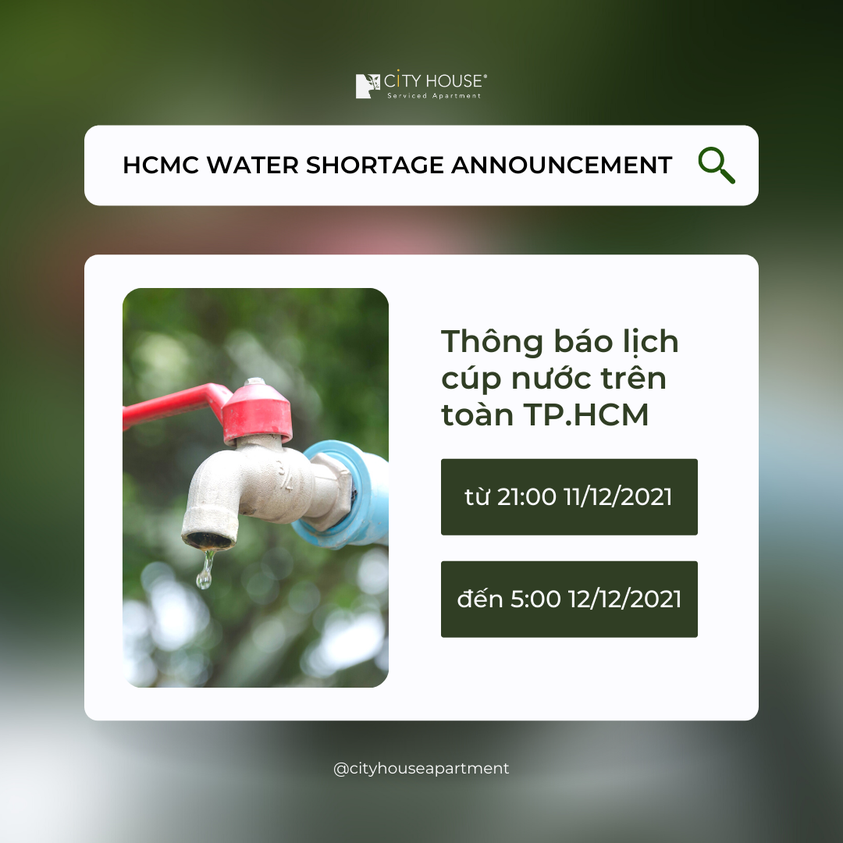 Besides, if you have any questions or concerns, please do not hesitate to contact us via:
Email: info@cityhouseapartment.com
Hotline:  +84 937 308 111
Thank you so much for your time and we wish you all the best
Best Regards,
CityHouse Care I Guest Service Experience Team.
Related news